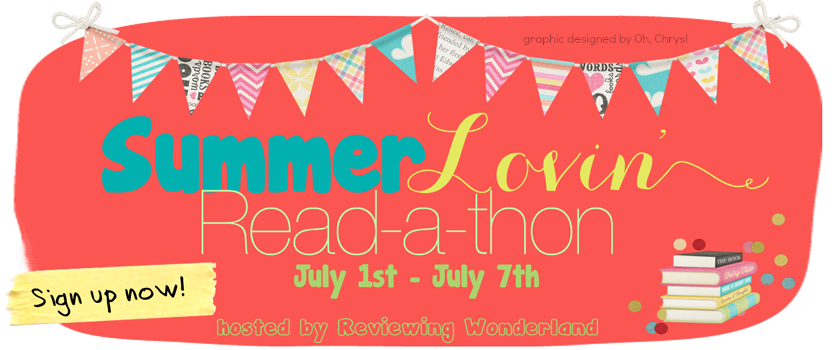 Today's participation post is for me to tell you how the RaT has gone so far. Well, my original goals were to finish Slated and The 5th Wave (both books were ones I had already previously started) and then to read some new ones sitting in my TBR pile. Good news, I finish Slated. Bad news, I haven't finished anything else yet. I did continue reading some of The 5th Wave, but I just wasn't feeling it this week. Because of that, I did get to finally start the House of Night vampire series starting with Marked (book 1). I am really glad I did because I am loving it so far!! The characters are so great and it's a really interesting take on vampires! I will hopefully finish that book by Sunday so then I'll have read two books.
As far as the participation posts and challenge posts go, I have taken part in all of them so far. Then I get sidetracked looking at everyone else's awesome posts and don't get much reading done lol. But it's been fun getting to talk to new bloggers and participate that I'm kind of okay with the fact that I haven't read that much!
How's this week been for you? Let me know in the comments! I'd love to hear about it!
Challenge Post: Cover Title Scramble (Pick 5 books from each month and unscramble them, put your answers in your blog post and submit them) Here we go!
May Titles:

1)

hte

h5t vewa

(THE 5TH WAVE)

2)

eht

scetrsahnen

3) ginwre

4) sujt neo

skis

(JUST ONE KISS)

5)

yan shduesc

lwil od

6)

ti

dha

ot

eb ]uyo

(IT HAD TO BE YOU)

7)

tols dan

dfnuo

(LOST AND FOUND)

8)

het

yelbon gnki

9)

neoc

noup

a niprec

(ONCE UPON A PRINCE)




June Titles:

1)

het

nomo

dan remo (THE MOON AND MORE)

2)

ormts

dna egies (STORM AND SIEGE)

5) het crenwmeo




6) veorfre oto

rfa

(FOREVER TOO FAR)

7)

het miatng

fo deyrr uanacvhga

8) wot

fo

a

dnki (TWO OF A KIND)

9) neo etswe

deri

(ONE SWEET RIDE)

10)

hwta

hte kedu

sesdeir




July Titles:

1)

fi

het

ohes

tisf (IF THE SHOE FITS)

2)

eth eegd

fo vnere

(THE EDGE OF NEVER)

3)

rfits

gisht

a

veonl

4)

utre

lvoe

5)

ehtre tletil

rdswo

6)

eht gniht

si velia

(THE NIGHT IS ALIVE)

7)

feprcte

gifln (PERFECT FLING)

8)

scoseh

hte

gronw

ugy

veag

imh

het

gwonr

gefrni (CHOSE THE WRONG GUY GAVE HIM THE WRONG FINGER)
August Titles:

1) lafl

fo

veif (FALL OF FIVE)

3)

hte desah

fo het

onom (THE SHADE OF THE MOON)

4) sero bahrro

ni mlobo


5) eht rohe (THE HERO)
6)

gib

ysk diwengd (BIG SKY WEDDING)

7)

yatacasw

veoc

a

ltehrse

yab

venlo

9) mtetapinto (TEMPTATION)