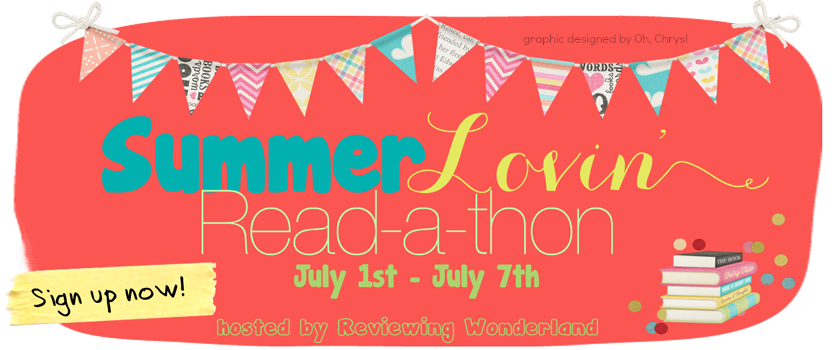 Happy 4th of July!! I can't believe it's already DAY 4 of this RaT! Yikes! It's gone by so fast! I've got 200 pages left in Marked so hopefully I can finish that by Saturday and start at least one more book! Now, let's get to today's participation post and challenge!
Participation Post:
Share a quote from your current read or share a book that really pulled at your heart strings.
This was actually pretty easy for me! I chose...
Synopsis: Ronnie is sent to Wilmington to live with her father (who she is angry with) for the summer. While there Ronnie learns some shocking news about her father, falls in love for the first time and more.
Please don't continue reading if you do not want spoilers!
Ronnie's dad is dying. I forget from what but I remember crying and being so sad when I was reading Ronnie talking about how her dad wouldn't be around to walk her down the aisle when she got married. This is the part that has always stood out to me because it just made me think of my dad and how he has to be around forever so he can do that for me! I don't get to see my dad that much since we live in different states and so reading that book specifically just made me cry. Luckily though I have a good relationship with my dad! Oh, and then when Ronnie finishes her dad's song that he had been working on and plays their "last song." I died. SO SAD. Everyone needs to read this book! The movie was one of the worst I have ever seen and Miley really ruined it for me. I say, don't even see the movie just read the book!
2nd Place: Destined (Book 4 of Wings) by Aprilynne Pike
3rd Place: The Statistical Probability of Love at First Sight by Jennifer E. Smith
Challenge Post:
Book Spine Poetry. Create a poem of any topic or length, using the titles on the book spine. Take a photo of them all stacked and post it! Here is my poem! (My sister even helped me. We spent like an hour on this!)
Into the Wild Hollywood Hills,
Beneath the glitter,
The A-List.
Reckless.
Adored.
This Lullaby (of) Flawless Sweet Little Lies.
The Fame Game.